Who We Are
KVH Industries is a leading manufacturer of solutions that provide global high speed Internet, television and voice services via satellite to mobile users at sea, on land, and in the air. KVH is also a premier manufacturer of high performance sensors and integrated inertial systems for defense and commercial guidance and stabilization applications. We are based in Middletown, RI, with facilities in Illinois, Denmark, Norway and Singapore.

... 
More >>
Recent Company/Investor News



Replication or redistribution of EDGAR Online, Inc. content is expressly prohibited without the prior written consent of EDGAR Online, Inc. EDGAR Online, Inc. shall not be liable for any errors or delays in the content, or for any actions taken in reliance thereon.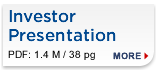 Fast Facts
Revenue:
$160M FY '17
Ownership:
Public, Nasdaq:KVHI
Founded:
1982
Employees:
600+
Fiscal Year End:
December 31
Worldwide
Presence:
Worldwide Presence: Headquarters in Middletown, RI, with offices in Illinois, Brazil, Cyprus, Denmark, Hong Kong, Japan, the Netherlands, Norway, the Philippines, Singapore, and the United Kingdom.